Hello !
EN - I'm Anko, artist and streamer.
Feel free to ask on twitter if you have questions about commissions.FR - Moi c'est Anko, artiste et streamer.
Vous pouvez toujours me contacter par twitter si vous avez des questions.
Portrait - 60€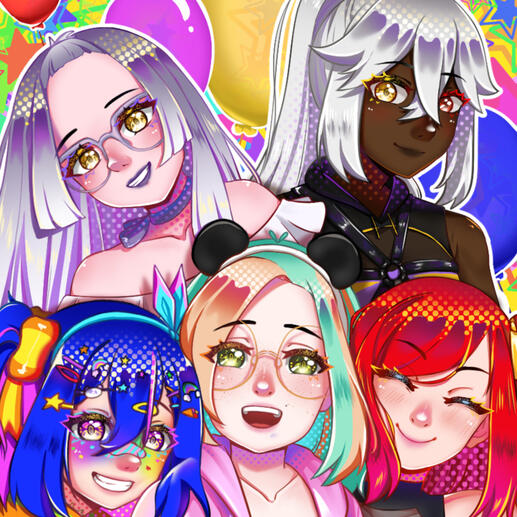 Bust up - 75€
Half body - 90€
(background + 20€ / add character + 50€)
Full Body - 110€
(background + 20€ / add character + 70€)
Chibi - 50€
Ref Sheet - 180€
Emotes - 1/10€
(pack of 3 - 30€ : pack of 5 - 50€)
If you want something that is not here, please contact me
Si vous voulez quelques chose qui n'est pas présent ici, demandez moi
Terms of Service
General terms :
-You must credit me upon every use of the drawing/illustration i made.
-You may not do major edits without consulting me before.
-You must not claim my work as yours.
-You must not sell or redistribute my work without consulting me before.
-You can use my work for commercial purpose Only and Only if commercial fees have been paid or upon agreements between us.
-I provide WIP and pngs if asked.
-I retain all rights to post the work online for promotional purpose and portfolio.
-I may stream the process unless you ask me not to.
-Commission can be canceled after 2 weeks of no response from you.Revisions :
-You are allowed multiple revisions but once the work is done, you may pay additionnal fees for major changes or i'm allowed to refuse it.
-Future revisions might not be possible if I have not retained (or lost) the originals files.Payment and Pricing :
-I do NOT give permission to tokenize my work as NFT of any kind.
-Prices are display here and can be discussed case by case in private.
-Price include time spent, revisions, material/sotfware used.
-Price do NOT include commercial use/rights. It can be add on.
-After discussion, I provide sketchs and ask for full payment after validation of the sketchs.
-I accept payment via Paypal and Ko-fi.
-Personal infos can be ask for invoice purpose. I'm committed to not leak any infos and not keep it if not needed.
-If for any reasons, I'm not able to deliver final work upon deadlines, you'll be offer to get refund depends of the work already done.
-You can cancel commission before i started working on it and before payment.
-If commission has to be cancel after payment, refund can be possible depend of the avdvancement. I keep the right to publish the work online or re-use it.
-I do not provide originial files unless it's needed.